Rapid extraction and purification of high-quality total RNA from cultured cells or tissue
Features & Benefits
Rapid Protocol – From cells or tissue samples to high-quality total RNA in just 25 mins
Streamlined gDNA removal – Novel DNA removal column eliminates gDNA contamination and need for DNase treatment
Extraction of low input quantities – Ability to extract RNA from as little as 10 cells
Downstream compatibility – Ideal for applications such as RT-PCR, RT-qPCR and next generation sequencing
Extracta Plus RNA Kit is intended for molecular biology applications. This product is not intended for the diagnosis, prevention or treatment of a disease.
The Extracta Plus RNA kit provides rapid extraction and purification of RNA from cultured human or animal cells and from various tissue samples. The Extracta Plus spin column workflow enables simultaneous processing of multiple samples in 25 mins to yield purified RNA suitable for a range of downstream applications. The kit includes specially designed Extracta Plus DNA removal columns for effective removal of genomic DNA contamination. This provides a convenient solution for applications that are sensitive to low amounts of DNA contamination such as RT-qPCR and NGS.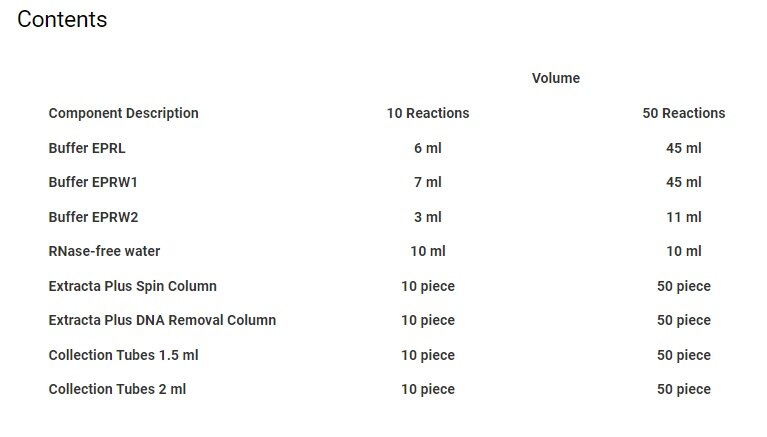 Storage & Handling:
Store Extracta Plus Spin Columns and buffers at room temperature (15-25°C).
For lot specific expiry date refer to package label, Certificate of Analysis or Product Specification Form.
Performance Data:
Resources: