Rapid extraction and purification of high-quality total DNA from cultured cells or tissue
Features & Benefits
High yield – Obtain large quantities of high quality DNA, free from PCR inhibitors
Versatility in sample types – Rapid purification of fresh or frozen tissue, cells, blood or bacteria
Lab friendly – Silica based column eliminates toxic organic chemicals such as phenol/chloroform
Downstream compatibility – Ideal for sensitive applications such as endpoint PCR, qPCR and next generation sequencing
Extracta Plus DNA Kit is intended for molecular biology applications. This product is not intended for the diagnosis, prevention or treatment of a disease.
Extracta Plus DNA kits offer rapid purification of total DNA from a variety of sample sources. Genomic, mitochondrial and pathogenic DNA can be collected from fresh/frozen animal cells, tissue, blood, and bacteria. The Extracta Plus Spin Column workflow enables simultaneous processing of multiple samples into purified DNA suitable for PCR, Southern blotting, RAPD, AFLP and next generation sequencing applications.
Storage & Handling

Store Extracta Plus Spin Columns and buffers in a dry room temperature (15-25°C) location upon receipt.
The supplied ready-to-use Proteinase K solution is stable for at least 1 year at room temperature (15-25°C). If ambient temperatures regularly exceed 25°C, or longer storage is required, Proteinase K solution can be stored at 2-8°C.
For lot specific expiry date refer to package label, Certificate of Analysis or Product Specification Form.
Performance Data: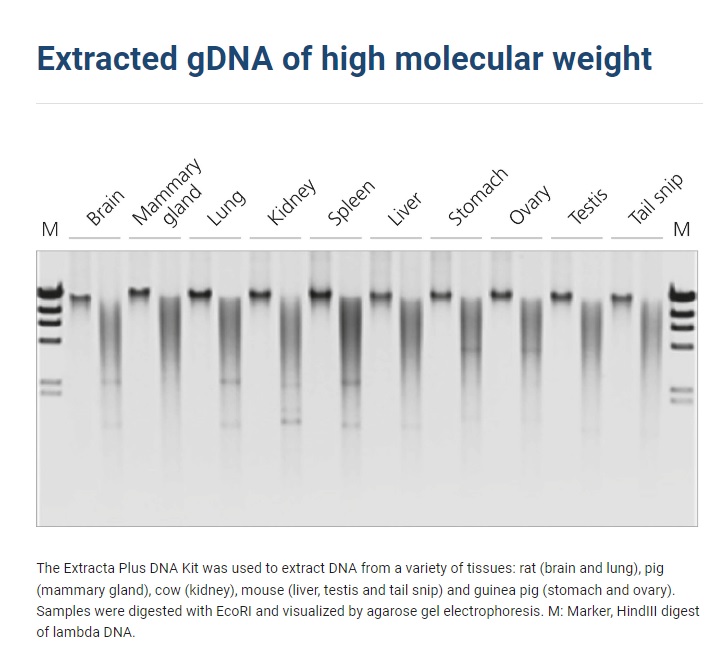 Resources: