QuickGene Mini 480 Semi Automated Nucleic Acid Isolation System
QuickGene Mini 480 is  high throughput compact system requiring no centrifugation in the isolation process, giving less strain to samples and enabling rapid nucleic acid isolation.  DNA/RNA can be easily isolated from various samples including whole blood, tissue, cells, plants, virus and others.
Compact Design:
The small, lightweight QuickGene Mini 480 takes up minimal space on the lab bench, and is easy to carry.
No need to move the samples from the lab bench without centrifugation throughout the whole isolation process.
Revolutionary Patented Porous Membrane gives High Purity and High Yield!
"QuickGene" products employ a unique porous membrane technology which guarantees high purity and high yield nucleic acid extraction.
The revolutionary patented nucleic acid adsorptive medium used with the QuickGene series of instrumentation is an ultra thin porous membrane, only 80μm thick. Because of the high adsorptive and desorptive properties of this ultra thin membrane, nucleic acids can be rapidly and reliably extracted at low pressures without compromising the integrity of the nucleic acid, ensuring high quality nucleic acid extraction. This ultra thin membrane enables nucleic acid isolation in shorter time frames when compared to the glass fibre membranes used by its competitors.
The Proprietary 80μm thick porous membrane effectively absorbs nucleic acids in hydrophobic solvents, effectively separating them from proteins and lipids. Nucleic acids are absorbed onto the membrane due to their hydrophilic properties. Lipids and proteins on the other hand are relatively hydrophobic and tend to seep out of the membrane. This ensures that a stable and reproducible isolation of nucleic acids is accomplished.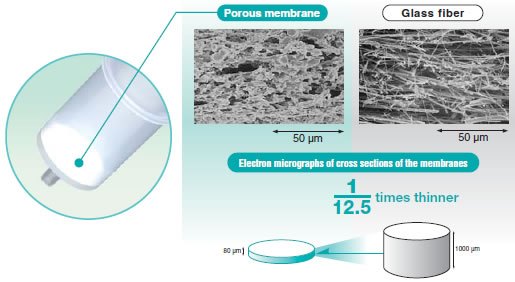 High Purity, High Yield:
QuickGene Mini 480 can stably isolate nucleic acid in high yield.  The isolated DNA/RNA can be directly applied to PCR, RT-PCR, Next Generation Sequencing Analysis, etc.
Easy & Rapid Processing:
The operation is simple.  Just set the sample and rotate the grey pressurizing Rotary Switch on both sides of the device.
No centrifugation process, no need to remove and transfer the liquid after sample pre-treatment to save valuable time.
Process 1 to 48 samples per run.
Enhance usability by using multichannel pipettes.
Pressurizing Process:

Easy Isolation from Various Samples:
The appropriate kit needs to be selected, depending on sample.
QuickGene Isolation Kits are optimized for the system to isolate DNA and RNA in the shortest time and with high quality.
Environmentally friendly isolation can be conducted without using hazardous organic solvents.
Specifications:
Overview:
Througput: 1 – 48 samples per run
Physical Specifications:
Dimensions:  280 (w) x 260 (d) x 300 (h) mm
Weight: Approx 3.3kg
Operating Conditions:
Supply Voltage: AC 100-240V
Power Supply Frequency: 50/60Hz
Operating Conditions:

Temperature 15-30 Degrees C
Humidity: 30 – 80% (non condensing)
Resources: