Accel-NGS™ 1S Plus DNA Library Kit for Illumina
DNA Library Preparation of Difficult Samples for Next Generation Sequencing (NGS) on Illumina Platforms
| | | |
| --- | --- | --- |
| Catalog No. | Library Kit – Product Name | Reactions |
| 10024 |  Accel-NGS 1S Plus DNA Library Kit for Illumina | 24 |
|  10096 |  Accel-NGS 1S DNA Plus Library Kit for Illumina | 96 |
An Indexing Kit is required for complete functionality. Please select one of the following:
| | | |
| --- | --- | --- |
| Catalog No. | Indexing Adapter Kit – Product Name | Rxns |
| 16024 | 1S Plus Indexing Kit (12 indices, 1 reaction each, Set A) | 24 |
| 18096 | 1S Plus Dual Indexing Kit (20 indices x 96 combinations) |  96 |
NGS Libraries from Difficult to Process Samples
The Accel-NGS 1S Plus DNA Library Kit for Illumina enables users to make libraries from degraded and damaged DNA because innovative Swift technology makes library molecules from single-stranded DNA. This technology provides the benefits of:
Libraries from ssDNA and dsDNA in a single sample
High complexity libraries
Fast, 2 hour protocol, start-to-finish
Capturing DNA fragments ≥ 40 bp
Accel-NGS 1S Plus DNA Library Kit is the best choice for users needing to sequence difficult to process samples which cannot be sequenced by other methods. Expand your research by processing damaged and degraded samples
Product Details
DNA Sequencing of Novel Sample Types
Accel-NGS 1S Plus technology is based on unique molecular biology techniques and reagents which combine to produce library molecules from previously unattainable samples. The technology allows for damaged, degraded, and ancient DNA to be easily processed into library molecules for sequencing. Whether a sample is old, has been improperly handled, or requires harsh DNA extraction conditions, the Accel-NGS 1S Plus DNA Library Kit can deliver it in proper form to an Illumina sequencer.
Supported DNA Sequencing Applications and Sample Types
Single-stranded DNA
Heat-denatured pathogenic samples
Targeted sequencing
Microbial sequencing
Ancient DNA
Metagenome
ChIP-Seq
FFPE
| | |
| --- | --- |
| Features | Benefits |
| Broad input range from 10 pg to 1 µg | Reduce concerns of proper quantification |
| High fidelity polymerase | Minimizes sequence bias from PCR |
| Adapts DNA ≥ 40 bp long | Capture previously unattainable sequences |
| Simple, 2 hour protocol | Process more samples per day |
Accel-NGS 1S Plus DNA Library Kit for Illumina Workflow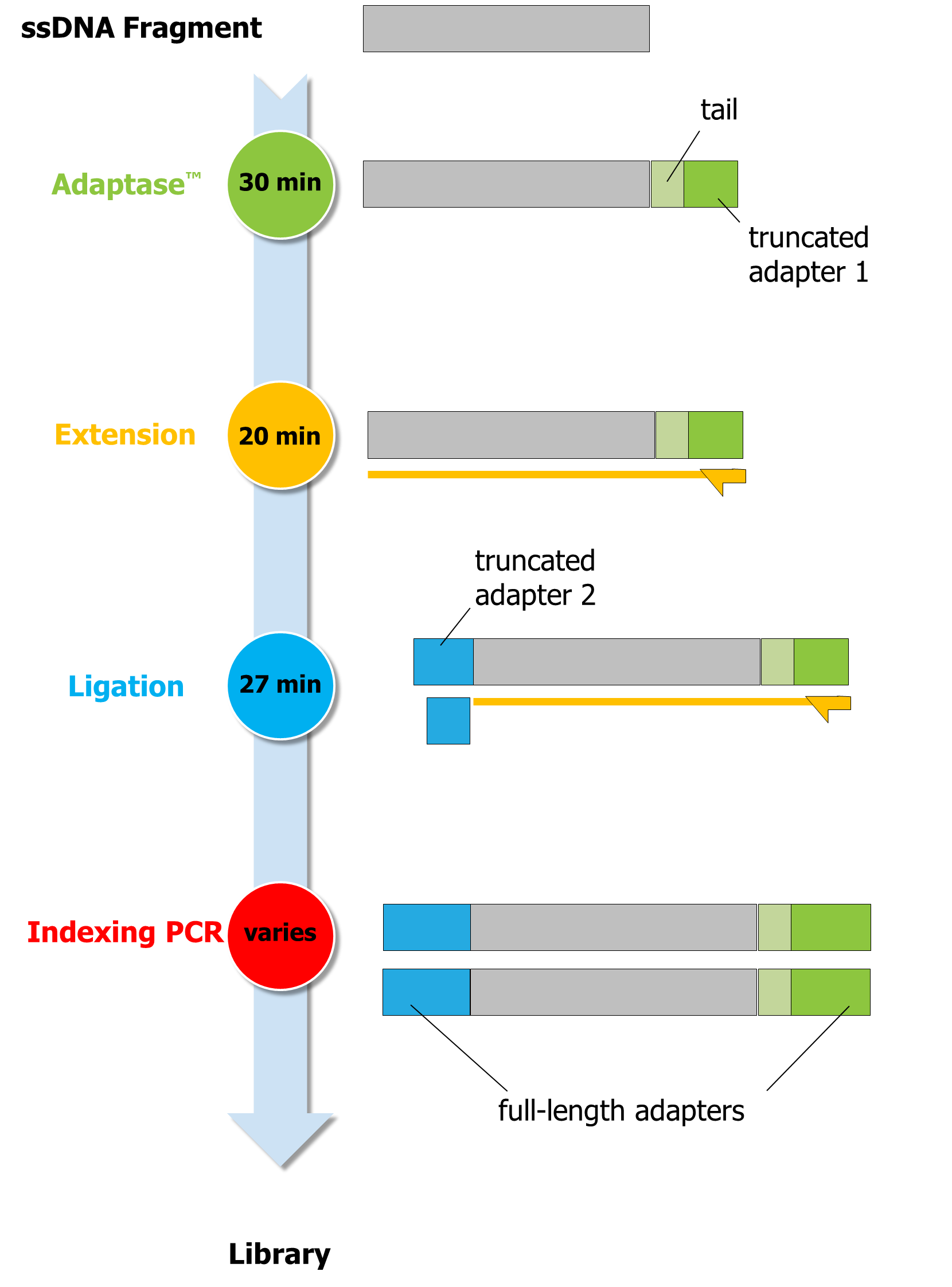 Note: clean-up beads are not provided with the kit. We recommend the SPRIselect Reagent Kit from Beckman Coulter.
Notice to Purchaser: Limited License
This product is for Research Use Only. Not for use in diagnostic procedures. It is licensed to the user under Swift Biosciences intellectual property only for the purchaser's internal research.
Trademarks
Illumina is a registered trademark of Illumina, Inc. SPRI, SPRIselect, and Agencourt AMPure XP are registered trademarks of Beckman Coulter, Inc.
Performance on the Illumina Platform
The data below demonstrate the performance of the Accel-NGS 1S Plus DNA Library Kit on ssDNA phages and difficult-to-process microbial samples.
Accurate Detection of Both ssDNA and dsDNA Phage
The Accel-NGS 1S Plus DNA Library Kit was used to prepare and sequence three artificial viromes containing different proportions of the ssDNA phage PhiX174 and M13 mixed with dsDNA phage. In all cases, the proportions were preserved when sequenced with the Accel-NGS 1S Plus Kit without any prior whole genome amplification for detection of ssDNA phage.
DNA Extraction and Sequencing of the Hard to Extract Microbe, Facklamia sp. HGF4
DNA extraction by NaOH boiling produced higher DNA yields from Facklamia sp. than bead beating, and in less time. Sequencing of the NaOH extracted DNA produced a high quality de novo assembled genome sequence that was indistinguishable from that produced from bead beating extracted DNA.
Trademarks
Illumina is a trademark of Illumina, Inc.
Resources
Click here to download additional SWIFT BIOSCIENCES Technical Resources
FAQ
How does the Accel-NGS 1S Plus technology work?
The Accel-NGS 1S Plus technology uses a simultaneous end repair, tailing, and adapter ligation reaction called Adaptase™ to add an adapter oligonucleotide onto the 3′ end of single-stranded DNA in a template-independent manner. The 5′ adapter ligation is then facilitated by priming off this 3′ adapter, extending through the insert, and creating a compatible end for the 5′ ligation. This technology is very unique in the NGS library market and also forms the basis for Swift's Accel-NGS Methyl-Seq DNA Library Kit and Accel-NGS DNA Library Kit for Ion Torrent™.
Should Accel-NGS 1S Plus be used for FFPE samples?
In some cases, with extremely degraded DNA that has been heavily nicked or denatured as a result of decrosslinking or other high temperature steps, this kit can produce the highest recovery and conversion rates of input DNA. However, for standard FFPE samples, we recommend using the Accel-NGS 2S Plus DNA Library Kit to achieve a 2-3 fold increase in yields versus competing kits and is usually superior to that obtained with the Accel-NGS 1S Plus DNA Library Kit.
Can Accel-NGS 1S Plus be utilized on ancient DNA?
Yes. Many users are attracted to this technology because it can convert the short, single-stranded fragments common in ancient DNA into NGS library molecules. Please contact technicalsupport@swiftbiosci.com for recommended modifications to the standard protocol.
Does Accel-NGS 1S Plus work with bisulfite-converted DNA for methyl-seq?
No. The polymerase used in the 1S Plus kit does not exhibit uracil tolerance. Therefore, for methyl-seq and other applications requiring tolerance to uracil-containing sequences, we recommend the Accel-NGS Methyl-Seq DNA Library Kit.
Can I perform stranded RNA-seq utilizing first-strand cDNA with Accel-NGS 1S Plus?
Yes. First you must isolate the RNA and remove rRNA by ribodepletion or enrich eukaryotic mRNA by polyA enrichment, followed by fragmenting the mRNA and determining its size distribution. First-strand cDNA should then be generated by an RT reaction, purified and quantified. From the purified first-strand cDNA, you may proceed to Accel-NGS 1S Plus library preparation.
Does the tail added in the Adaptase step affect read alignment?
In most cases there is no effect. Please view the technical note titled Accel-NGS® 1S Plus & Methyl-Seq Tail Trimming For Better Data for more details on the tail and how to trim if necessary.