Welcome to Gene Target Solutions
Gene Target Solutions is an Australian owned company that services the Australian Life Science Community.   Our partnership with leading Global Biotechnology Companies such as Epicentre, Quanta Bio,  Advanced Analytical Technologies, DeNovix, Biosearch Technologies, Swift Biosciences, Dornier, Biolegio, Biotium, Orflo, Kurabo, BioMolecular Systems (formally known as Corbett Research),  NimaGen & ZyGEM,  allow us to specialise in the field of Molecular Biology with a strong focus on the Purification, Qualification, Quantification, Amplification and Next Generation Sequencing of all Nucleic Acids.
---
What barriers will you break,
with the NEW Fragment Analyzer FEMTO Pulse?
Detect 1 femtogram/µl.
Separate 165,000 bp in 1 hour.
The FEMTO Pulse is a revolutionary instrument for the analysis of nucleic acids. Capable of detecting down to 1 fg/µl of sample and accurately sizing fragments and smears through 165,000 bp, the FEMTO Pulse is breaking all the QC barriers.
The FEMTO Pulse has all the separation advantages of pulsed-field electrophoresis, but is able to complete a separation 15-20X faster than the current method while automating the analysis.
The combination of femtogram level sensitivity and accurate sizing of very large nucleic acid fragments and smears allows the FEMTO Pulse to break analytic barriers.
Watch the new Fragment Analyzer FEMTO Pulse video.

Download the Fragment Analyzer FEMTO Pulse Brochure.

Introducing the NEW Fragment Analyzer INFINITY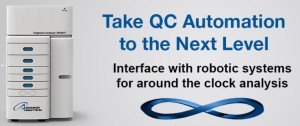 The Fragment Analyzer INFINITY™ takes QC automation to the next level. With the capability to interface with any of the world leading robotic systems, DNA and RNA analysis can now be done around-the-clock with no downtime.
The Fragment Analyzer INFINITY can size, qualify and quantify nucleic acid samples around-the-clock without human intervention.
Improve laboratory efficiency by removing bottlenecks associated with time-consuming sample preparation, instrument use and post-run data analysis. The Fragment Analyzer INFINITY offers numerous features and benefits, including:
Configurable API to meet your unique needs
Continuous operation, run over 2400 samples a day without human intervention
Automated drawers interface with almost all robotic arms
Automated data processing post-electrophoresis reduces analysis bottlenecks
Compatible with LIMS
Compatible with all the qualitative and quantitative kits rigorously developed and tested for use on the Fragment Analyzer™.
Fragment Analyzer is the only automated instrument for the analysis of CRISPR/Cas9 gene-editing events.
Accelerate your scientific discovery using a streamlined process for easy identification of both individual and pooled gene mutations.
---
     

INTRODUCING "Mic"

, your personal qPCR cycler.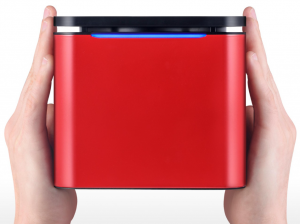 Mic is Fast, Accurate, Compact and Scaleable. Designed and manufactured by Bio Molecular Systems, an Australian company founded by the leading innovators of the former Corbett Life Sciences Company, & innovators of the Rotor-Gene 6000.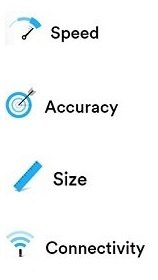 Faster heating & cooling times.
Running multichannel assays has never been quicker.

Unsurpassed temperature uniformity.
No need to calibrate – ever.
Less bench space than your laptop.
At 2kg, the most portable qPCR cycler available.
Multiple MICS can be operated from one workstation.
Bluetooth technology.
Purchase a Mic Magnetic Induction Cycler & receive
a FREE Kurabo QuickGene Mini 80 Nucleic Acid Extraction System valued at $2063.
---

Gene Target Solutions has been appointed the Australian Distributor for SWIFT BIOSCIENCES.
Swift Biosciences have an exciting range of products which includes a suite of differentiated technologies to improve Next Generation Sequencing (NGS) Sample Preparation.

The new Accel-Amplicon panels are based on unique molecular biology to provide powerful solutions for detecting and screening clinically relevant mutations.  Swift Biosciences multiplex amplicon panels are comprised of 10's to 100's of primer pairs in a single-tube format which are optimized for sequencing on Illumina® platforms & diagnostic applications.

Accel-NGS® 1S Plus DNA Library Kits allow DNA Library Preparation of Difficult Samples for Next Generation Sequencing (NGS) on Illumina® Platforms. This kit enables users to make libraries from degraded and damaged DNA because innovative Swift technology makes library molecules from single-stranded DNA.

Accel-NGS® 2S Plus DNA Library Kit.
DNA Library Preparation for Next Generation Sequencing (NGS) on Illumina® Platforms. The Accel-NGS 2S Plus DNA Library Kit for Illumina platforms utilizes a proprietary adapter attachment chemistry which minimizes bias and supports inputs as low as 10 pg.
The Accel-NGS Methyl-Seq DNA Library Kit maximizes DNA recovery of bisulfite-converted samples and resultant libraries accurately represent sample base composition. The kit currently provides the most comprehensive coverage of the methylome.
Watch the new Accel-NGS Methyl-Seq video.
---
Gene Target Solutions has been appointed the Australian Distributor for NimaGen.
NimaGen offers a complete portfolio of Capillary Electrophoresis kits and consumables, covering the whole workflow of DNA Sequencing and fluorescent Fragment Analysis applications, from core PCR reagents and primers, cleanup solutions, sequencing kits and instrument consumables.

Increase your throughput and lower your costs with AmpliClean™ – a highly efficient and cost-effective PCR purification kit. PCR products purified with AmpliClean™ can be used in applications such as Sanger Sequencing, Next-Gen Sequencing, Library preparation size selection & fragment analysis.


The BrilliantDye™ Terminator v1.1 Cycle Sequencing Kit is a complete kit, based on the trusted Sanger Chain Termination method. The kit is delivered as a 2.5x concentrated ready-reaction premix, fully optimized for a highly flexible chemistry, designed for all kinds of Sequencing applications, including de novo sequencing and resequencing. The kit generates data with uniform peak heights and optimized signal balance to produce long, high-quality reads.

NimaGen's Ex'S-Pure™ Enzymatic PCR cleanup is designed for simple, quick and easy PCR cleanup. It eliminates all unwanted dNTP's and residual primers from your PCR products, which would otherwise interfere with downstream applications, such as sequencing, SNP analysis, genotyping or cloning.
---

Quantify the largest dynamic range of dsDNA, with space-saving, intuitive DeNovix FX Series Spectrophotometers and Fluorometers.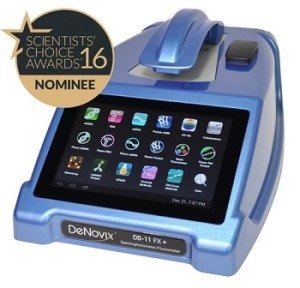 DeNovix FX Series instruments combine Fluorescence and 1ul UV-Vis in stand-alone units for quantification of the widest dynamic range of biomolecules.  DeNovix introduces three new dsDNA assays that enable the full sensitivity of the instrument, including quantification as low as 0.5 pg/ul dsDNA. These simple to use, two-point standard assays are pre-programmed into every DeNovix FX instrument and are highly selective for dsDNA even in samples containing RNA or protein.
Downloads:
DeNovix Spectrophotometer and Fluorometer Series Brochure
DeNovix DS-11 FX Series – Performance Comparison Versus NanoDrop One
---
GelRed™
is a next-generation fluorescent nucleic acid gel stain designed to replace the highly toxic ethidium bromide (EtBr).  Developed by scientists at
Biotium
,  
GelRed™
is superior to EtBr and other EtBr alternatives by having a combination of low toxicity, high sensitivity and exceptional stability. It is a direct replacement for ETBr due to its almost identical spectrum.
GelGreen™
is a sensitive, stable and environmentally safe green fluorescent nucleic acid dye designed to stain either dsDNA, ssDNA or RNA in agarose gels. 
GelGreen
is far more sensitive & stable (both hydrolytically and thermally) than SYBR dyes like SYBR Safe.
GelRed™ and GelGreen™ are on special with Biotium's Australian distributor, Gene Target Solutions, for a limited time
.
---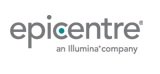 QuickExtract DNA Extraction Solution provides rapid & efficient extraction of PCR-ready genomic DNA from almost any sample type, using a simple, one step protocol that takes only 3 – 8 minutes!
Simple, rapid extraction of PCR-ready DNA for transgenic mouse genotyping, genetic studies, human identity testing, or viral/microbial screening.
Nontoxic reagents, inexpensive processing.
Short procedure
No centrifugation or spin columns to reduce yields
Compatible with high-throughput and robotic workflows.
Epicentre's buccal swabs and brushes are designed for safe, gentle buccal cell collection for subsequent DNA extraction and PCR analysis. Both swabs and brushes are provided individually packaged in sterile hard-pack plastic cylinders (hard pack) or as a soft pack.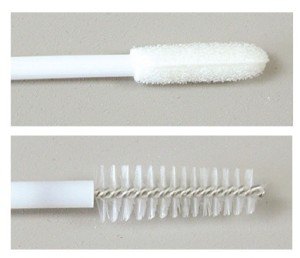 Catch-All™ Sample Collection Swabs are soft foam swabs on soft, flexible plastic handles. Catch-All Swabs provide gentle, safe buccal sample collection, even for infants, and the porous foam on these swabs catches more of the sample than buccal brushes.
Catch-All™ Sample Collection Swab (Hard Pack #QEC091H) 100 buccal swabs in hard-pack plastic carrier
Catch-All™ Sample Collection Swab (Soft Pack #QEC89100): 100 buccal swabs in soft packaging
MasterAmp™ Buccal Brushes are soft bristle-type buccal brushes (pack  of 100)
# MB100BR: MasterAmp™ Buccal Brush (Hard Pack) – 100 buccal brushes in hard-pack plastic carrier
# MB100SP: MasterAmp™ Buccal Brush (Soft Pack) – 100 buccal brushes in soft packaging.
---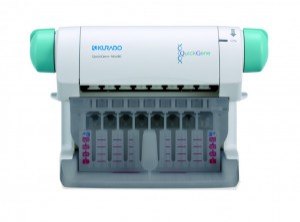 The QuickGene is affordable, lightweight, simple, rapid & semi automated.  Its ultra thin membrane reduces the chance of contamination and enables the processing of samples at mild low pressure conditions, without the use of a centrifuge or vacuum manifold.
---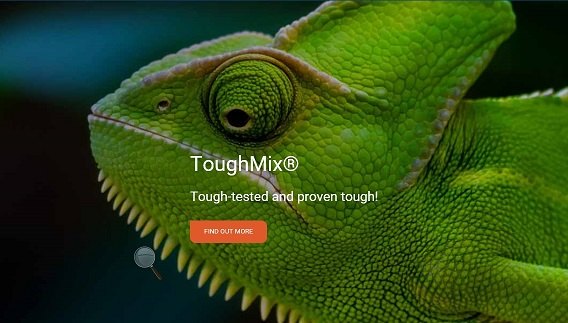 PerfeCTa qPCR ToughMix – Catalogue # 95112
Maximum Sensitivity and PCR Efficiency

PerfeCTa qPCR ToughMix is a 2X concentrated ready-to-use reaction cocktail for PCR amplification of DNA templates that overcomes many known inhibitors of PCR often present in crude samples extracted from environmental specimens, plant tissues, or animal tissues.
PerfeCTa qPCR Toughmix is a versatile and robust real-time qPCR reagent that provides maximum sensitivity and PCR efficiency with a variety of fluorogenic probe chemistries, including TaqMan® hydrolysis probes.

qScript XLT cDNA SuperMix – Catalogue # 95161
Out performs all first-strand kits on the market.
qScript™ XLT cDNA SuperMix is a next-generation tool for first-strand cDNA synthesis, providing a highly sensitive and easy-to-use solution for two-step RT-PCR and RT-qPCR.
Superior cDNA synthesis:   Download Brochure
Selected Quanta Bio 5Prime Products
are now available in Australia through Gene Target Solutions!